Chicken and rice casserole, aka leftovers. Your leftovers can be transformed into a new exciting dish. Try our leftover chicken & rice casserole recipe for a heart-warming meal. Vegetable and Cheesy Chicken Rice CasseroleMy Kitchen.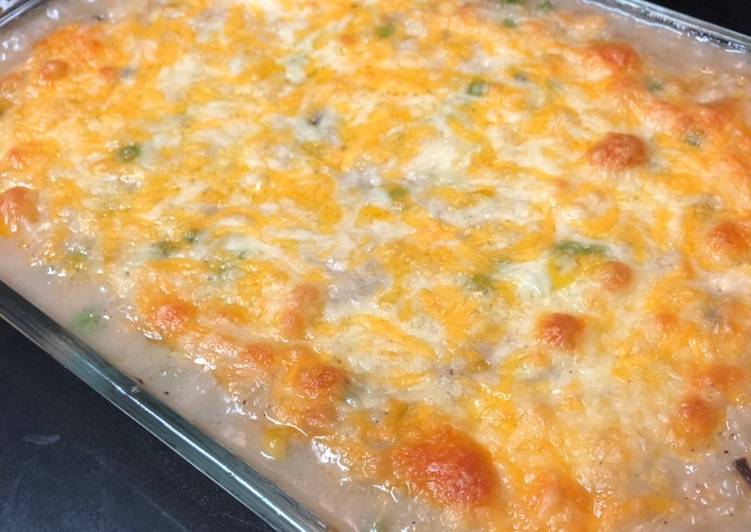 Uses no Cream of Whatever soup. A creamy wonderful one dish meal of chicken, rice 'n peas, topped off with a mixture of bread crumbs and Parmesan cheese and baked until golden brown. Leftover chicken and potatoes team up to make this tasty casserole. You can cook Chicken and rice casserole, aka leftovers using 9 ingredients and 3 steps. Here is how you cook it.
Ingredients of Chicken and rice casserole, aka leftovers
You need 4 cups of packed leftover cold cooked rice.
Prepare 3 cups of leftover cold cooked chicken.
Prepare 1 of large can (22.6 oz) cream of mushroom soup.
It's 1 can (15.25 oz) of whole kernel corn, drained.
Prepare 1 cup of frozen peas.
Prepare 1/4 of Parmesan cheese.
Prepare of Pepper, garlic and onion powders.
It's 1/2 cup of water.
You need of Grated cheese of choice for top.
The combination comes together with a basic white sauce and vegetable mixture. Leftover chicken can become dry and a little blah but combining it with a creamy sauce and baking until bubbly gives it new life. When I reheat the leftovers I put a little butter in it and it's wonderful!!! Chicken and Rice Casserole. this link is to an external site that may or may not meet accessibility guidelines.
Chicken and rice casserole, aka leftovers step by step
Preheat the oven to 350. Spray or butter a medium sized casserole dish..
In a large bow, combine the first 8 ingredients well. Pour into greased casserole and cover with aluminum foil. Bake for 45 minutes..
After 45 minutes pull it out of the oven, crank the temp to 400, and remove foil. Add your grated cheese to the top and return to the oven uncovered for 15 minutes longer. Allow it to sit for a bit to thicken. I serve it with salad and garlic bread..
Tip: Try chicken rice casserole for more results. Rotisserie Chicken and Rice Casserole is an incredibly easy and delicious dinner that is perfect for busy weeknights! This easy casserole is made with rotisserie chicken, rice and almonds, celery and more! A family favorite that I've been making for decades! For this chicken and rice casserole I like to use use medium or long grain white rice.