Cheesy Tuna Broccoli Casserole. EASY Cheesy Broccoli Chicken Rice Casserole Stir in mafalda, tuna and broccoli for a hearty casserole, ready in a snap! For easy substitutions, use Cheddar cheese soup or cream of asparagus soup instead of broccoli soup and frozen asparagus cuts for the broccoli.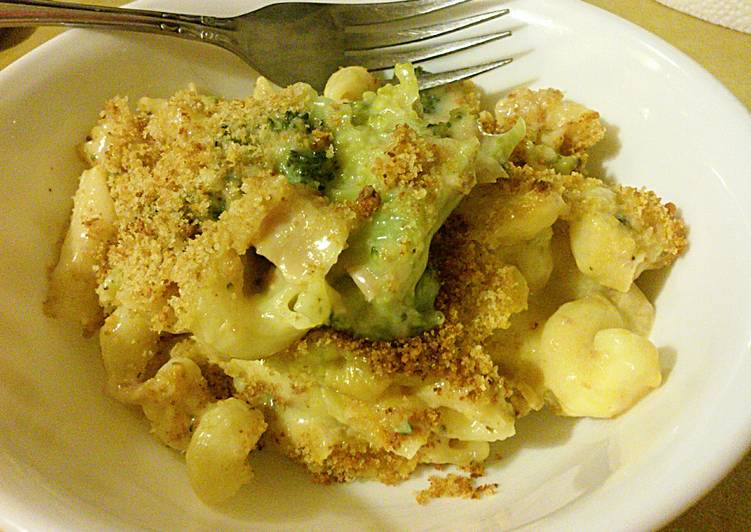 Peas are a classic addition and sometimes you see corn mixed in as well. Cheddar cheese has become a popular addition to this classic dish to add more flavor. It consisted of noodles, canned tuna, and a couple of cans of cream of mushroom soup. You can have Cheesy Tuna Broccoli Casserole using 14 ingredients and 10 steps. Here is how you cook that.
Ingredients of Cheesy Tuna Broccoli Casserole
You need 16 oz of pasta noodles such as Cellentani, Penne, Rotini (something good for holding sauce).
It's 2 cup of broccoli florets – roughly chopped to bite size pieces (fresh steamed or frozen, thawed out is fine).
You need 3 can of tuna in water – drained.
Prepare 1 can of cream of chicken soup.
You need 1 can of cream of mushroom soup.
It's 1 1/2 cup of milk (I used a soup can filled 1 and 1/2 times).
Prepare 12 oz of 2% Velveeta – cubed.
Prepare 1 1/2 cup of extra sharp cheddar cheese – shredded (I used extra sharp Vermont white cheddar).
You need 1 pinch of cayenne pepper OR nutmeg.
You need of salt and pepper.
It's of topping.
It's 1/2 cup of bread crumbs.
It's 1/4 cup of grated parmesan cheese.
You need 2 tbsp of extra virgin olive oil.
It was creamy and salty and truly comfort food. I tweaked it a bit and it turned out to remind me of that childhood favorite. Cheesy Tuna, Broccoli and Cauliflower Casserole. How to make Tuna Broccoli Casserole – prep & cook time, serving size, nutritional info, ingredients.
Cheesy Tuna Broccoli Casserole instructions
In a large pot prepare pasta to package directions, cooking 2 minutes less than minimum cooking time listed on package. Drain in colander, return to pot (off heat) and cover. While waiting for water to boil and pasta to cook, prep and cook your broccoli..
IF USING FRESH BROCCOLI: Separate florets, place in a steamer basket in a medium sauce pan with about an inch of water in the bottom, cover and steam until just fork tender. Mine took about 15 minutes. Remove from steamer basket, set aside, spread out on cutting board, let cool slightly so not to burn yourself and give it a rough chop. IF USING FROZEN: Use broccoli florets, thaw completely in a colander so any excess moisture drains away, then spread out and roughly chop the same as you would the fresh. When ready dump broccoli in pot with pasta..
Preheat oven to 375°F and grease a 9×13" casserole dish with butter or cooking spray. Set aside. Get ready to make your sauce now!.
In the same sauce pan you steamed your broccoli, pour out water, add both cans of soup and milk. Stir with a whisk to combine and bring to a simmer over medium heat. Stirring with whisk frequently to prevent sticking..
Add cubed Velveeta, continue simmering until Velveeta is completely melted, stirring constantly to prevent sticking (I still used my whisk). NOTE: If simmer is too fast and you feel sticking on the bottom of the pan, reduce heat to medium low..
When Velveeta is completely melted, reduce heat to low, add a pinch of cayenne or nutmeg and shredded cheese and whisk in until cheese is completely melted. Taste and add salt & pepper as desired (I only add pepper to this, everything else is usually salted enough)..
Pour finished sauce into the pot with pasta and broccoli. Add drained tuna. Gently fold everything together until incorporated. Pour into prepared casserole and spread out evenly..
In a small bowl mix together topping ingredients. Sprinkle evenly over casserole. Bake uncovered for 20 minutes, or until the top is golden and edges are bubbling..
When done, remove from oven. Let rest 10 minutes, dish up and enjoy!.
NOTE: I personally prefer fresh broccoli for this recipe. It is quicker than waiting for frozen to thaw and tastes much better. If you do use frozen, you will have to start thawing at least 30 minutes before starting pasta. You could also thaw on defrost setting in your microwave or in the package in your fridge over night. With all thawing methods, you should still drain off excess moisture..
Colorful carrots, broccoli and red bell peppers find their way into a familiar casserole of tuna, celery, onion and cream of mushroom soup. Sprinkle with Cheddar cheese and bake until warm and bubbly. This cheesy Chicken Broccoli Rice Casserole is the EASIEST meal you'll make all week and is sure to become a new family favorite! Our very favorite casserole recipe is this Chicken and Rice Casserole and it's one of the most-requested meals from both the boys and Chris – they just can't get. Dinner has never been easier than with this updated classic tuna casserole.