Mushroom and Cheese Orzo Bake. This baked orzo is packed with veggies, making it a great vegetarian main dish. I've included sautéed mushrooms and green peas, but it's customizable with whatever veggies that you have on hand. This baked orzo is extremely family friendly, and it's a different way to enjoy macaroni and cheese.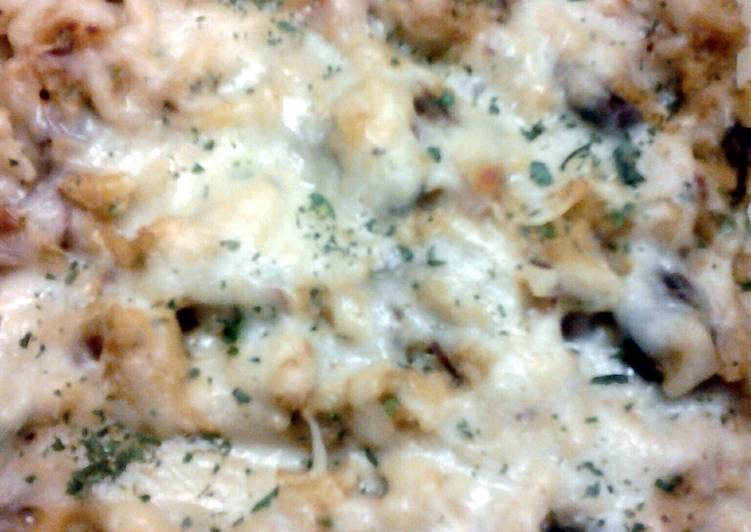 This leek and mushroom orzo dish is incredibly creamy and irresistible thanks to Boursin cheese! Rachel @ Baked by Rachel says: I totally need to try this! I'll have to keep an eye out for that cheese now! You can have Mushroom and Cheese Orzo Bake using 16 ingredients and 6 steps. Here is how you cook that.
Ingredients of Mushroom and Cheese Orzo Bake
Prepare 1 tbsp of canola oil.
It's 1 tbsp of butter.
Prepare 8 small of sliced portobello mushrooms, sliced.
You need 1/4 cup of red onion, diced.
It's 8 oz of cooked orzo.
Prepare 3 tbsp of fresh parsley, chopped.
You need 1/4 cup of milk.
Prepare 1 of -10 3/4 oz. cream of chicken soup.
It's 1 tbsp of teriyaki sauce.
Prepare 1/2 tsp of garlic powder.
You need 1/4 tsp of salt & pepper.
You need 2/3 cup of shredded mozerella cheese.
Prepare of Topping.
It's 1/4 cup of shredded mozerella cheese.
It's 3 tbsp of sliced almonds.
You need 1 tsp of dried parsley.
Incredibly creamy, rich, cheesy and full of flavor, it This risotto is super creamy, rich, buttery and packed with tender orzo pasta, meaty caramelized mushrooms, fragrant herbs and sharp, nutty parmesan cheese. This creamy spinach and mushroom orzo is cheesy, filling, and so simple to prepare. I've been on a pasta kick lately, and orzo pasta is one I'm not a fan of rice, so orzo is the perfect side dish substitute for me. You can make it so many different ways, and you can easily adjust it to make it a main dish, too.
Mushroom and Cheese Orzo Bake instructions
Preheat oven to 375°..
In a small skillet, saute onions and mushrooms with canola oil and butter until onions are transclucent and mushrooms are tender. Set aside..
In a large bowl whisk milk and cream of chicken soup together with teriyaki sauce, salt & pepper, garlic and 3 tbsp fresh parsley..
To the soup mixture add in cooked orzo, sautéed onions and mushrooms and 2/3 cup mozerella cheese. Stir well..
Transfer mixture to a greased (I used non stick cooking spray) casserole dish. Top with sliced almonds, 1/4 cup mozerella cheese then lastly the dried parsley..
Bake for 20 minutes until heated thoroughly and bubbly..
Did I mention this Mushroom and Spinach Orzo is all made in one pan? Here it is, straight off the stove. Add zucchini and mushrooms to orzo and you have a creative and tasty side dish. The onions, garlic, fresh parsley and Parmesan cheese make it even more delicious. You can even add chicken or shrimp to it and have a complete meal that is so easy to prepare.